Bibliography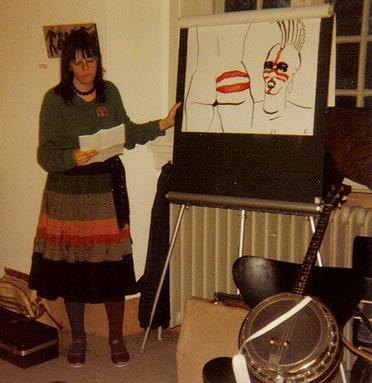 - the author's work in English
Hardcover
Look Wot I Dun, biography, Omnibus Press, 2013
The authorised Don Powell biography.
In "Look Wot I Dun" Lise Lyng Falkenberg paints an entertaining, but sincere and honest portrait of an ordinary man with an extraordinary job who struggles with both fame and amnesia and the consequences thereof: self doubt, alcoholism, loneliness and financial woes. Using diary quotes, interviews and her own research the author has created a unique documentation of one man's struggle to find himself behind his image as Slade's powerhouse drummer. Furthermore Lise Lyng Falkenberg uses her interviews with Don Powell, his family, friends and colleagues (e.g. Gene Simmons (Kiss), Francis Rossi (Status Quo), Andy Scott (Sweet) and Suzi Quatro) to make a new and different type of biography with memory as a major theme. After all: who remembers what and do different people remember differently?
ISBN: 9781783050406. £ 19.95 at Amazon.co.uk, Waterstones or any major book store.
The book is available as ebook for Kindle as well: £ 12.03 at Amazon.co.uk,.
Paperbacks
The Monkees - caught in a false image, biography, Underskoven, 2001
Remember the Monkees? Of course you do! In the sixties Micky Dolenz, Davy Jones, Mike Nesmith and Peter Tork starred in the famous TV series about a pop group and eventually turned into a pop group themselves, thereby becoming the first manufactured boy band in the world. Now the Monkees celebrate their 35th anniversary and they are still going strong. This book started out as an interview with Peter Tork and developed into a complete biography on the Monkees. The main focus is placed on the Monkees' visual works, especially the TV show, the feature film HEAD and the TV special 33 1/3 Revolutions Per Monkee, which are all submitted to thorough analyses. Furthermore the book includes an annotated discography, accounts of the many concert tours as well as an annotated listing of each episode of the show and a bibliography for further reading.
ISBN: 87-90767-31-4. £ 16.95 at musicbooksrus - no longer available

Twisted Tales of Thanatos, short story collection, Underskoven, 2003
Twisted Tales of Thanatos is Lise Lyng Falkenberg's first work of fiction in English. The short stories have previously been published in Danish where they have been selected from the author's two short story collections and different literature magazines. The author herself has translated them into English for this collection. The short stories tell about second sighted rock musicians, disillusioned mistresses, fetishistic artists and dead childhood friends in a cycle of destinies, anecdotes and snapshots from real life. The magic realism that permeates the seven short stories gives a new and wondrous idea of death in an otherwise mundane, modern society.
ISBN: 87-90767-72-1. DKK 125 - no longer available
Furthermore Lise Lyng Falkenberg has done numerous interviews as well as reviews of movies, music, art and theatre.
Since 2012 Lise Lyng Falkenberg has published independent ebooks. Available so far:
"Greatest Hits 1996-2011" celebrates fifteen years of Lise Lyng Falkenberg's short stories. It offers her ten most beloved stories published in the ebook format for the first time. Prepare to come face to face with prejudice, love, death and magic realism in this literary Top 10, where the stories have been selected based on sales figures. We hope you'll enjoy the countdown from number 10 to number 1.
Available through Smashwords, Amazon, Barnes & Noble, Apple iBooks, Kobo, Sony and Diesel. $1.99 / £ 1.24
When up and coming author Erica Blum falls in love with film star Jack Evander, she is sure that this is the beginning of a fairy tale romance. Little does she know that her new life in love and luxury is going to turn into a nightmare. Not only is Jack a full-blown playboy, he also lives in a haunted house where ghosts from his past are out to get her.
"Souls Astray" is available through Smashwords, Amazon, Barnes & Noble, Apple iBooks, Kobo, Sony and Diesel. $2.99 / £ 1.98

"The Monkees - caught in a false image" was first published in 2001 as a paper book, but is now available as ebook in this fully updated version, telling the Monkees' story from the beginning in August 1965 to the tragic death of Davy Jones in February 2012. The press wrote:
"I was impressed. I would highly recommend this book to fans and I would rate it in my top 5 Monkees books." – Monkeemania Downunder, Australia
"Falkenberg's book would be a nice addition to any Monkees fan's collection. It's analysis is more thorough than any other book available on the market." – Band 6, The Monkees Official UK Fan Club, England
"Danish writer settles accounts with the myths about the sixties band The Monkees in her new book" – Fyens Stiftstidende, Denmark
Available through Smashwords, Amazon, Barnes & Noble, Apple iBooks, Kobo, Sony and Diesel. $1.99 / £1.24
"Build Me a Bridge" is a psychological novel about interdependence, age, love and murder. Identical twins, Adrian and Charles Lewis, have reached success with their heavy rock band, Pan's Revenge, but their world is shaken when death and love enter their lives. Emotional insecurities, fear, prejudice and an elusive killer threaten to tear the brothers apart. In the end they have to recognise the disturbing truth about their interdependence.
Available through Smashwords, Amazon, Barnes & Noble, Apple iBooks, Kobo, Sony and Diesel. $2.99 / £1.99

When Lise Lyng Falkenberg's "The Boy Who Would Not Grow Up - But Did" was first published in the author's native language Danish in 1999, it was hailed as an indisputable literary renewal of Peter Pan-studies. It was regarded the most thorough, informative and entertaining book on the subject and is still one of the most essential studies in Peter Pan.
Now available in English through Smashwords, Amazon, Barnes & Noble, Apple iBooks, Kobo, Sony and Diesel. $1.99 / £1.24

"A hilarious Postmodern novel sparkling with narrative skills and the joy of storytelling." That was what the critics wrote in 1995 when "Never Mind It" was first published in the author's native language, Danish. Now the novel is available for the first time in English, translated by the author herself, and this postmodern metatext about writing and relationships is going to blow you mind!
Now available in English through Smashwords, Amazon, Barnes & Noble, Apple iBooks, Kobo, Sony and Diesel. $2.99 / £1.94

"Metanoia" is a guided tour through Lise Lyng Falkenberg's peculiar universe

where ghosts lurk, angels flock and men turn into scarecrows

The ten short stories in this collection deal with myths, death, love, regret and betrayal in Falkenberg's trademark magic realism world and your guide on this strange tour is none other than Little Johnny Sleepwalker. Enjoy!




Now available in English trough Smashwords, Amazon, Apple iBooks, Baker & Taylor, Gardners, Inktera, Kobo and WH Smith and Play in the UK, FNAC in France and Portugal, Feltrinelli in Italy, bol.com in the Netherlands, Livraria Cultura in Brazil, Angus & Robertson, Bookworld and Collins in Australia, Paper Plus in New Zealand, Indigo in Canada, Rakuten in Japan and the USA and Orbile in Mexico.

$1.99 / £1.35

Celebrating her forty years in fiction, Lise Lyng Falkenberg has handpicked her thirteen best short fiction works for "Mind Drops". From her bestselling short story "The Blackbird" over her early novella "Mooncalf" and Haiku poetry for Twitter to her brand-new scary story "The Beetle" the works are a representative collection of the author's writings characterised by her use of magic realism, horror and stream-of-consciousness. So, sit back and enjoy as you are in for a wild ride.


Available through Amazon.

Paperback: $12.06 / £8.99

British drummer Don Powell, who rose to fame with the seventies' British glam rock band Slade, wrote the original manuscript for "The Adventures of Bibble Brick" in the sixties, but it wasn't published until he teamed up with Lise Lyng Falkenberg. Together they have rewritten the story to make it more up to date without it losing its original charm, humour, and quirkiness.


The book tells the story of the pebble Bibble who leaves the beach to see for himself how it is to live on shore. Here he ends up in the entourage of a pri

z

e fighter, where he makes new friends and fights against the bad guys. The story is still wonderfully inappropriate for younger children with its boxing theme, drunken night club scenes and a very sexy spider.
"The Adventures of Bibble Brick" is excellently illustrated by Mark Millicent. It is available at Amazon in e-book format

$ 3.43 / £2.99

and in hardcover format

$ 11.33 / £8.50
The author's blogs in English:
Point of View: http://www.liselyngfalkenberg.blogspot.com
British rock band Slade: http://www.bigboyzbignoize.blogspot.com
Interviews with British drummer Don Powell of Slade: http://donpowellinterviews.blogspot.com
- the author's work in Danish
Max og Lurifax (Max and Slyboots), children's book,1983
During a visit to Grandma's Max meets the creature Slyboots. Slyboots takes Max to the magic kingdom Arkapia where they help the king get his crown back from the evil monster Grebneklaf.
ISBN: 87-411-5250-6. Out of print
Syge under solen (Evil under the Sun), novel, 1995
An erotic social satire on art and magic, love and destiny. The novel uses its medium to jump between story and writing, reality and illusion in order to paint an absurd, funny and philosophical picture of the modern art of life.
Print-on-demand only. No longer available.
Fugleskræmslet (The Scarecrow), novel, 1996
A magic novel about the victims of love. A female journalist falls in love with a colleague who happens to be her foster brother and the plot culminates in a lyric description of the metaphysic transformations which the characters have to go through in order to survive an erotic obsession.
Print-on-demand only. No longer available.
Drømmenes rige (The Kingdom of Dreams), novel, 1997
A magic-realistic odysse about a woman's escape from her conflict-ridden past. She moves to Los Angeles where nothing is what it seems, least of all life.
ISBN: 87-90511-55-7
Månekalven og andre noveller (Mooncalf and other short stories), 1998
Fifteen short stories about magic, mystery and the supernatural. The stories are set in European and American cities where ordinary people encounter supernatural events. Three of the stories (Mooncalf, The Blackbird and For every Evil under the Sun) can be found in Twisted Tales of Thanatos.
ISBN: 87-85062-27-8
Drengen der ikke ville blive stor - og som blev det (The Boy who wouldn't grow up - but did), 2000
Ph.D.-dissertation about Sir J. M. Barrie's works on Peter Pan. The dissertation is thorough, skilled, fascinating and even funny and its qualified contribution to a literary renewal of Peter Pan-studies is indesputable.
ISBN: 87-90733-27-4
Den moderne død - ni nye noveller (The modern Death - nine new short stories), 2001
A cycle of magic-realistic tales, anecdotes and snapshorts from real life. Two of the stories (Memories of Summer and The smiling Skeleton) can be found in Twisted Tales of Thanatos.
ISBN: 87-90733-67-3
Nyhedsformidling - gemt og glemt i skillingstryk (The dissemination of news saved and forgotten in broadsheets), 2003
The author's Ph.D.-dissertation about news dissemination in old Danish broadsheets from the second half of the 19th century.
Limited edition, no longer available
Agnes Schmidt-krimier (Agnes Schmidt crime stories), 2004-2005
For the Danish weekly magazine Hjemmet Lise Lyng Falkenberg has written a series of short stories featuring Agnes Schmidt. Her late husband was a police officer and so is her son, but when the going gets tough, Agnes Schmidt has to solve the mysteries herself.
Furthermore Lise Lyng Falkenberg has written a dozen short stories and poems for different anthologies and literary magazines as well as almost 200 articles, reviews and essays for cultural magazines and other publications, including interviews with Peter Tork of "The Monkees" and Don Powell of "Slade".